COVID-19 Testing Sites & Information
Stay safe when traveling around St. Pete/Clearwater, visit a COVID-19 testing location if you have been exposed to the virus to help stop the spread.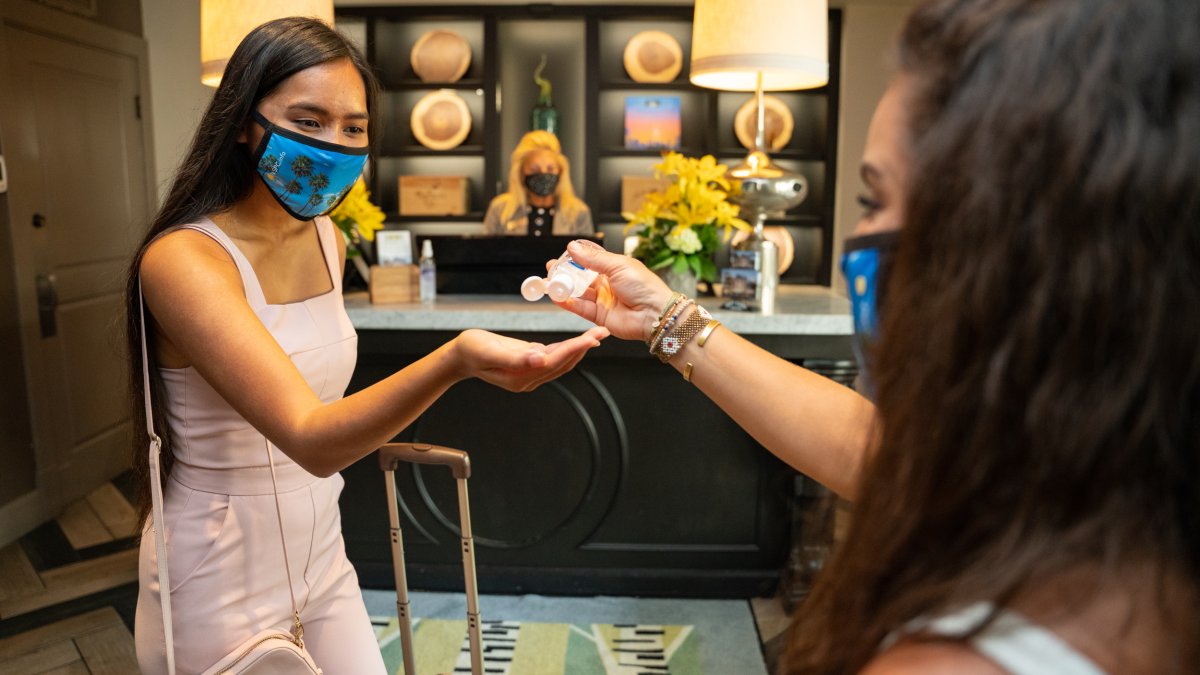 COVID-19 Quick facts and information:
Please be respectful and prepared when traveling to and in the destination.
There is no county-wide or state-wide mask ordinance in the destination, but individual businesses may ask you to wear a mask when on business premises.
You do not need a negative covid-19 test to travel domestically to the destination.
You do not need proof of vaccination to enter restaurants and businesses in the destination.
Check out a list below of Covid-19 testing locations in Pinellas County. If you think you've been exposed, visit the CDC website. Please visit the Pinellas County COVID-19 website for more information. Note: tests may be in short supply. Consider purchasing an in-home test prior to traveling to the destination.
Pinellas County/DOH Supported Site
Appointment NOT required
2333 34th St. S., St. Petersburg (site located at the Center for Health Equity)
9 a.m. to 5 p.m., Mon-Fri (new clients accepted until 4:30 p.m.)
More Info: call 844-770-8548
CVS
Appointment required, both drive through and walk-up testing available
Register and make an appointment
Various locations available throughout the county. 
Walgreens
Appointment required, drive-through testing available
Register and make an appointment at:
AFC Urgent Care – Clearwater
Appointments NOT required at AFC facilities, walk-in testing available
1500 N. McMullen Booth Road, Clearwater
Monday – Friday: 8 a.m. to 8 p.m.
Saturdays & Sundays: 9 a.m. to 6 p.m.
(727) 266-1266
www.afcurgentcareclearwater.com
AFC Urgent Care – Pinellas Park
7101 U.S. Highway 19 N., Pinellas Park
Monday – Friday: 8 a.m. to 8 p.m.
Saturdays & Sundays: 8 a.m. to 5 p.m.
(727) 201-8585
www.afcurgentcarepinellaspark.com
AFC Urgent Care – Seminole
11241 Park Blvd Suite A Seminole
Monday – Friday: 8 a.m. to 8 p.m.
Saturdays & Sundays: 8 a.m. to 5 p.m.
(727) 394-3828
www.afcurgentcarepinellaspark.com/seminole
AFC Urgent Care – Tyrone/St. Petersburg
2241 66th St N St. Petersburg
Monday – Friday: 8 a.m. to 8 p.m.
Saturdays & Sundays: 8 a.m. to 5 p.m.
(727) 273-1700
www.afcurgentcare-stpetersburg.com
Doctor's Urgent Care
Appointment required, only with symptoms or exposure
34621 U.S. Highway 19, Palm Harbor
Monday – Friday: 9 a.m. to 7 p.m.
Saturdays & Sundays: 10 a.m. to 4 p.m.
(727) 953-9888
www.yourdoctorsurgentcare.com
Your Kids Urgent Care – St. Petersburg
Drive-through testing available.
4040 49th St. N., St. Petersburg
Monday – Friday: 7 p.m. – 10 p.m.
Saturday & Sunday: 12 p.m. – 8 p.m.
(727) 526-6483
Your Kids Urgent Care – Largo
Drive-through testing available.
12190 Seminole Boulevard, Suite A, Largo
Monday – Friday: 7 p.m. – 10 p.m.
Saturday & Sunday: 12 p.m. – 8 p.m.
(727) 586-6483 
Midnight Medicine, Inc – Pediatric and Adult Urgent Care
Jeffrey A. Hirschfield, MD
Appointment required, drive-through testing available
6705 38th Avenue North, Suite A, St. Petersburg
Monday – Friday: 8 a.m. – 5 p.m. Extended hours are available; call for an appointment.
Saturday & Sunday: Call for an appointment
727-851-6160 
www.pediatricurgenthealthcare.com 
www.midnightmedicine.com
   
Pharmacy Innovations
Rapid Results Testing
Appointment required, drive-through testing available
7779 Starkey Rd., Seminole
Monday – Friday: 10 a.m.- 4 p.m.
727-381-9799
www.pharmacyinnovations.net
TGH Urgent Care
Appointment required
Locations in Seminole & St. Petersburg
Register and make an appointment online:
www.fasttrackurgentcare.com/fastpass
MedExpress
Appointment required
Locations in Largo and Clearwater
Register and make an appointment online:
https://www.medexpress.com/content/medexpress/en/covid19.html
       
Walmart/Quest Diagnostics
Some locations offering no cost testing for those with insurance.
More info         
Largo Clinic
Appointment NOT required
Largo Mall, 10500 Ulmerton Road Suite 366, Largo FL, 33771
https://largoclinic.com
Call 727-3586545 or email [email protected]