roll like a local
Explore Central Ave, St. Pete's Coolest Street
Find a fresh and funky vibe on Central Avenue, where small businesses – and the passionate, creative people who own them – create an artsy and authentic local experience unlike any other.
---
Starting at the beautiful downtown waterfront and stretching west, Central Ave. invites you to wander along its vibrant boutiques, galleries, restaurants and bars. Spot murals, shop for one-of-a-kind threads and explore the heart of the local food and drink scene as you go.
All year long and any time of day, Central Avenue hums with activity: art lovers marveling at murals and museums, foodies savoring mouthwatering fare, live musicians grooving away and shoppers discovering rare finds at local shops. Here's a taste of the fun to be had along this storied corridor.
Where to Eat & Drink
St. Pete/Clearwater's dynamic dining scene really shines along Central Ave., where an incredible array of restaurants line the thoroughfare. Craving modern Italian amid exposed brick and rustic furnishings? Head to Il Ritorno (400 block). Find acclaimed farm-to-table fare in a delightfully intimate setting at Brick & Mortar (500 block). For vegans and the vegan-curious, acclaimed Cider Press Café (600 block) serves up an impressive menu of hearty dishes, burgers, brunch items and much more, all completely sans animal product (bonus: Love Food Central and Freya's Diner, both further west on Central, are also musts for vegans). Sushi lovers can wasabi it up in style at Pacific Counter or The Lure (both 600 block). Locals love hitting up Bodega (1100 block) for their authentic Cuban dishes. And stylishly appointed Baba (2700 block) serves up lovingly made Greek and Lebanese-inspired dishes. Oh, how the list goes on. 
Where to Shop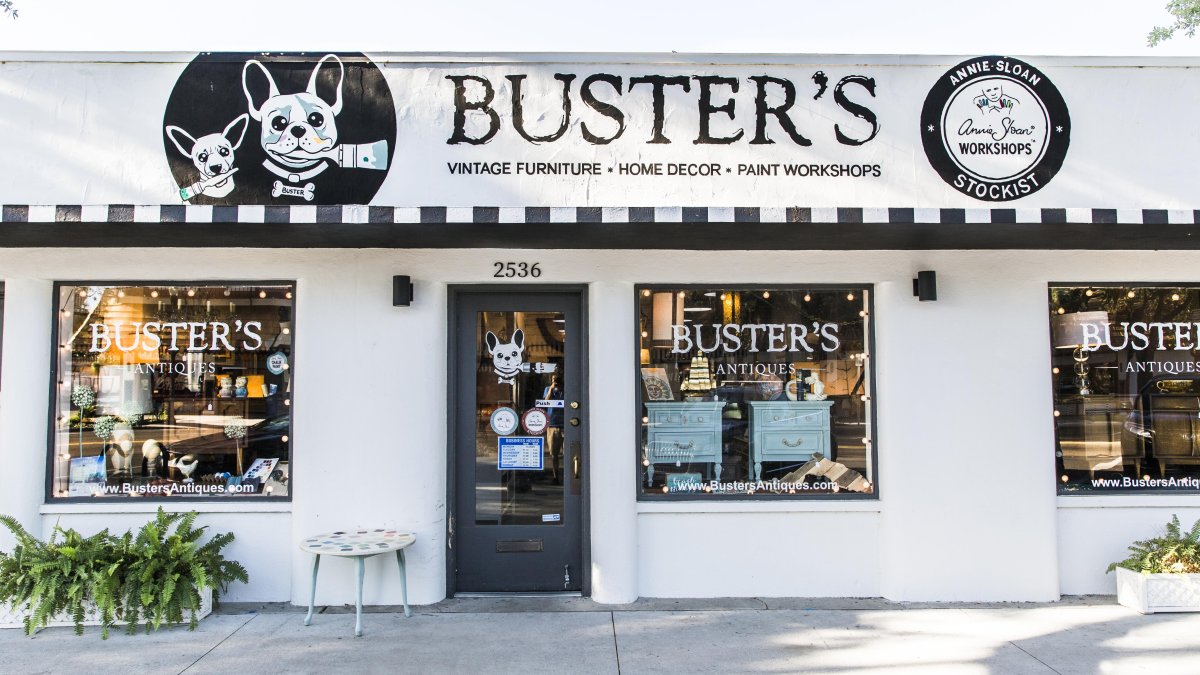 When you stroll the shops of Central Ave., you'll discover dozens of small, independent businesses offering wares you won't find anywhere else – from chic clothing to handmade bodycare products to outsized statement pieces for your home. For fashionistas, Ashe Couture (1100 block) and MisRed (600 block) feature the latest designs from boutique brands you love. On the 2100 block, ArtPool offers a selection of highly curated vintage clothing, jewelry and art – the window display is an attraction on its own. On that same block, Tombolo Books is an excellent place to pick up your next beach read. For larger-than-life nautical décor and a fair share of risqué bar accessories, head to Zazoo'd on the 500 block. Up for an antiquing odyssey? Your adventure starts at Buster's on the 2500 block.
Arts on Central
Elevating the Central Ave. experience is a breathtaking amount of art that infuses it with color and life, both inside the museums and galleries and on the exteriors of many buildings. Look in virtually any direction and you'll spot one of the many amazing murals lining Central. In the heart of downtown, the James Museum of Western and Wildlife Art (100 block) houses an exciting collection of jewelry and visual art harkening to the Wild West. Go west on Central and you'll find Florida CraftArt (500 block), which features the work of the most talented local artists. Clustered together on the 700 block are Morean Arts Center, Morean Glass Studio and the mesmerizing Chihuly Collection. And in the Grand Central District, Imagine Museum features dreamy glass art (be sure to check out the mural on its east-facing wall!).
Nightlife & Music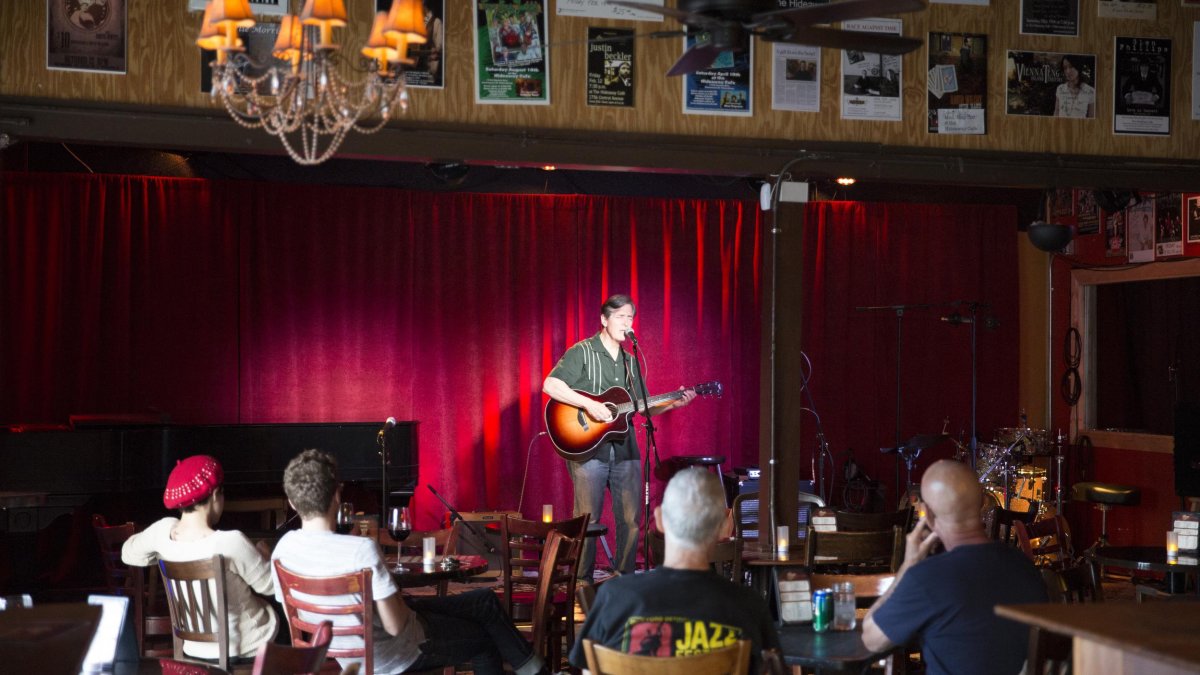 Whether you're having a night on the town, doing a little day-drinking or checking out some live music, Central Ave. is the place for it. The 200 block is the perfect spot to bar-hop, from beloved dive Mastry's to chic Mandarin Hide to laid-back The Crafty Squirrel. Many feature live music, and lovers of singer-songwriter performances will want to check out Hideaway Cafe in the Grand Central District (1700 block). If you're a jazz fan, check out The Independent on Sunday afternoons (1000 block). Craft beer lovers are definitely not left out, especially at Grand Central Brew House (2300 block) and Right Around the Corner (2200 Block). As for spots to savor good wine, Hawthorne Bottle Shoppe (2900 block) and Sauvignon Wine Locker (200 block) are your best bets. Salut!
LGBTQ+ Spots on Central
Site of tons of St. Pete Pride festivities and home to the Grand Central District, considered to be the original St. Pete gayborhood, Central Ave. is an epicenter of LGBTQ+ fun. You can tell by all the Pride flags on display year-round that Central Ave. is welcoming, but many business along central are LGBTQ+-owned. Start with the LGBTQ+ Welcome Center (2400 block), set in a restored bungalow. It offers a wealth of traveler info geared toward LGBTQ+ travellers, on everything from where to stay and eat to events throughout St. Pete/Clearwater. Among the most notable spots along Central: Zazoo'd (500 block) and Atlas Body + Home (900 block) for shopping, Cider Press Cafe (600 block) and Punky's Bar and Grill (3000 block) for food and drink and Cocktail (2300 block) and The Garage on Central (2700 block) for adult beverages and dancing.
Funky Finds on Central
While all of Central Ave. is pretty offbeat, there are quite a few spots where you can truly expect the unexpected. Bring the pups to Dog Bar (2300 block), a hybrid bar/dog park where the pups can play off leash as you savor the beverage of your choice. Pups are also welcome at Brutique (600 block), a beer and wine bar that doubles as a very fashionable boutique. More of a cat person? Then head to Sunshine Kitty Catfe right meow (1600 block). Relax with an expertly brewed kava (or tea) at Grassroots Kava (1000 block). A few doors down, you'll find Sans Market, a zero-waste shop where you'll find sustainably made goods and a bounty of houseplants. For absolutely delightful handmade bodycare products, head to ultra-hip Bohemian Rêves (1600 block), which always has a lot of cool stuff hanging around. Nestled in Crislip Arcade on the 600 block, The Merchant offers an amazing selection of locally made products, from soaps and candles to clothing and décor – it's the perfect spot for souvenirs (bonus: there's a café in back that sells coffee, beer, wine and pastries).
Central Avenue: On the Map
It might be hard to believe so much can be going on along one stretch of road. See all the restaurants, nightlife, venues, shops and other activities happening along the way – and get a good lay of the land while you're at it – with this map.
Slideshow